Green Day In The Hall Of Fame
When David Hayes and I were starting Lookout Records and getting ready to put out records by bands like Operation Ivy, Isocracy, Crimpshrine, and Sweet Children, it was hard to see ourselves or the bands we worked with as anything other than perennial outsiders.
In those days, the mere mention of Rolling Stone publisher Jann Wenner could have me frothing at the mouth; his magazine seemed to epitomize the world of corporate dinosaur rock we had to set out to upend. Now, a bit shy of three decades later, the guy was standing 20 feet in front of me making a speech, and I was sitting quietly, politely listening.
Next to me was John Kiffmeyer, aka Al Sobrante, who in 1994 ignited a blazing row because I'd softened my stance enough to let a Rolling Stone reporter interview me. He too, was on his best behavior, as were fellow OG (Original Gilman) stalwarts like Aaron Cometbus and Tim "Lint" Armstrong. Once upon a time we might have been hurling insults or ice cubes in Wenner's direction, but tonight we were here to watch our friends be inducted into the Rock and Roll Hall of Fame.
It was back in December when Billie Joe texted to ask if I remembered when Lookout had released the first Green Day EP, 1,000 Hours. After chatting for a bit, he suddenly said, "Hey, can you keep a secret?"
"Of course I can," I said indignantly, though I knew that hadn't always been the case (I've been getting a lot better at it in recent years).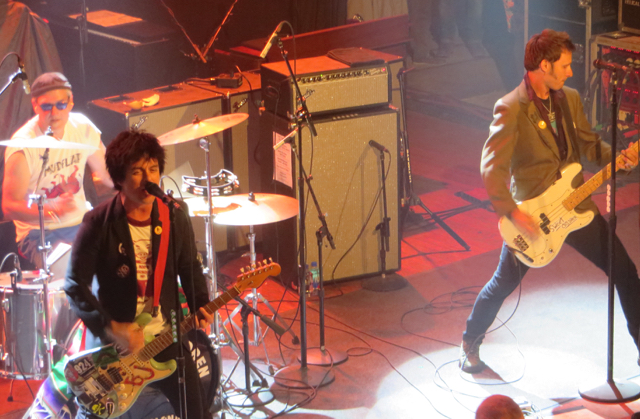 That was how I first heard the news that Green Day had been voted into the Hall of Fame. But I almost wished I hadn't; Billie made me promise not to tell anyone until the official announcement was made a week later.
Ever since they were nominated, I'd been predicting they'd get in. The Hall of Fame would lose all credibility, I said, if they didn't. Now I wanted to call everybody and say, "I told you so," but … I couldn't.
I kept my word—and the secret—but it made for a very long week. When the news finally broke, people began congratulating me (hey, I'm not the one who's getting inducted, I had to remind them), and reporters called to quiz me about the role I'd played in the band's early days.
It's tricky fielding inquiries like that, because while I'm something more than a footnote—I released the first two Green Day albums and gave Tre Cool his start as a drummer—I'd never want to be seen as claiming credit for the band's success, at least 99% of which came from their own hard work and talent.
Things got more awkward when people asked if (or assumed) I'd be in Cleveland for the ceremony. Some even suggested I should be the one making the induction speech, but I honestly had no idea whether I'd even be invited. One thing you learn when your friends get very famous is that everyone wants a piece of them. Make a habit of calling them for guest list slots or other special favors and you risk becoming just one more annoying face in a maddening crowd.
As March approached, I still hadn't heard anything, so I assumed I'd be watching the event on TV (or not, since, as I learned, it was on HBO, which I don't have). Then, just as I'd all but given of hope of going, Pat Magnarella, Green Day's manager, got in touch to formally invite me.
Pat also told me (another secret I'd have to keep!) the band would be playing an unannounced show at Cleveland's House of Blues two days before the ceremony. "It'll be fun," he said, but gave no other hint about what to expect.
On the day of the show I started getting emails asking if I could confirm the rumor that John Kiffmeyer/Al Sobrante was going to re-unite with the band for the first time in almost 25 years to play a Sweet Children set. This, however, was one secret nobody had told about, so I could truthfully answer that I had no idea.
I didn't even know if Al, who I hadn't seen in years, was in town. So like nearly everyone else in the packed House of Blues, I had to wait until he came nonchalantly wandering out onto the stage before I knew it was actually going to happen.
There weren't many of us in the crowd who'd seen Al playing with Sweet Children/Green Day between 1988 and 1990, but for those of us who had, it was an eerie, hilarious, and heartwarming time machine ride back to those days when you could say or do almost anything on stage because … why not?
It wasn't like anyone was out to be a rock star or have a "career" in music. The fact that a dozen of your friends were willing to come hear you play was more than enough. Al, who'd cut his chops as the drummer and chief mouthpiece for Isocracy, was the dominant force in Sweet Children's early days, if only because at that point, Mike and Billie literally were not much more than children.
They were barely 16 when Al joined the band, so for the first couple years he booked the shows, drove the van, gave the interviews, and, I suspect, schooled the two younger kids in how to relate to the public in general and fans in particular.
It had been 17 years since Al last played with a band—or played drums at all—but he instantly reverted to form. Some people, myself included, thought he'd actually gotten better during his long hiatus.
In the Gilman days Al was never one for sitting quietly behind his kit waiting for the next song to start. If he had something to say (and he usually did), he'd say it. If he thought people weren't paying close enough attention, he'd step up to the front of the stage and commandeer Mike's or Billie's microphone.
Younger Green Day fans didn't know what to make of it when Al pulled that stunt in Cleveland, but those of us familiar with his shtick were in stitches when he audibly shushed Billie as if he were still dealing with a self-effacing 16-year-old instead of one of the biggest rock stars in the world.
"I had to dig deep," he told me after the show, "to channel the old Al Sobrante." But channel him he did.
Whether in the guise of Sweet Children or Green Day (combining the two performances, Billie and Mike must have put in almost three and a half hours onstage), the band was on top form, showing no sign of the world-weariness and disarray that seemed to be overtaking them on their last tour. Billie Joe especially was a revelation, looking younger, healthier, and more energetic than he had in years.
Both he and Mike sported shorter, punkier haircuts that hearkened back to a simpler, less showy time. As Green Day the band delivered the kind of set you might see at Madison Square Garden, but scaled down for a club not that much bigger than Gilman. As Sweet Children, they might as well have been at Gilman, performing songs that hadn't been heard live since before some of the audience members were born.
I'd been yapping at the band for years to play "Dry Ice," and tonight they finally did. Realizing that they'd run through almost all my favorite early rarities, I tweeted: "'Dry Ice' at last. Now they just need to play 'Rest' and I can go home happy." They didn't, but I went home happy anyway. Though I must have seen Sweet Children/Green Day a couple hundred times over the years, this was easily one of the best.
Friday was an off day for those of us who were merely there to watch, while the bands and tech crews were busy with rehearsals and preparations for the main event on Saturday night. My friend Alex and I went to the Cleveland Museum of Art, which I remembered from the 1970s as being pretty spiffy, and which seems to have spiffed itself up even further since then.
It was an incredibly beautiful spring day, and while it's hard to find fault with spring anywhere, there's something ineffably unique about spring in the Midwest, especially to those of us who grew up there. My hometown of Detroit is just the other side of Lake Erie, and while we were taught to think of Cleveland as a slightly backward little brother of a city, things seem to be looking up for what was once rudely dubbed "the Mistake on the Lake."
Detroit could learn a few lessons from Cleveland, which, like all the Rust Belt cities, has been through some tough times. I was able to get everywhere via convenient, affordable trains and buses, and the locals were consistently helpful and friendly, going out of their way to wish me an enjoyable time in their city.
I stayed at a hotel directly across the street from the Public Auditorium, the site of the induction ceremony and a magnificent city block-sized throwback to the days when "public" was not a dirty word, when it was taken for granted that government could and should build institutions and structures that enhanced the quality of civic life.
From my window I could see Lake Erie and the Rock and Roll Hall of Fame itself, an ultra-modern building that's not half bad-looking. It feels slightly out of place in the proletarian surroundings of downtown Cleveland, but seems to be settling in nicely as a centerpiece and anchor for the new, developing city.
I wound up getting only a brief glimpse at the inside of it. It was 11 pm on Friday night when I was handed a VIP laminate and told it would get me into a reception and party at the museum.
"Is there food?" I asked. I'd sort of forgotten to eat anything since lunchtime.
"Um, probably, but you'd better hurry. It ends at midnight."
By the time I'd walked there and slithered in through a side door (I failed to notice the red-carpeted entrance), I had half an hour to eat as much free food as I could and/or take a lightning-quick tour.
It was okay. If I were as sentimental about rock and roll as some people my age, I could have spent hours—days, even—wallowing in nostalgia. But I'm not. Besides, in order to see everything I could before midnight, I had to limit myself to about 30 seconds per exhibit.
By the time I got back, the hotel was overflowing with celebrities and "industry" types, to the point where a crew of bouncers was checking IDs to make sure you were actually staying there. Longtime Green Day crew member Kenny Butler told me Tre was in the downstairs bar with his parents (my old neighbors from Spy Rock!), so I went in to say hi.
I'd seen Tre's mom at a wedding last summer, but it had been almost 20 years since I'd last talked with "Big Frank," as we sometimes called him. But he'd already gone upstairs to bed. "I reckon he's gotta be up with the chickens," I said. When we lived in the country, we used to almost semi-seriously talk that way.
Tre's mom was still there, as was his wife Sara and her parents. Tre, almost invariably the life of the party, was slightly more subdued than usual. Sometimes it's hard to get him to stay still long enough to exchange a few sentences, but tonight we sat talking and laughing for hours.
On the way up to my room I ran into Tom Morello of Rage Against The Machine. I'd always pictured him as some fire-breathing, chomping-at-the-bit radical, but walked away saying, "I can't believe how Hollywood that guy is!" He kind of reminded me of that old Rolling Stones song, "Under Assistant West Coast Promo Man." In a good way, of course.
It was already past three a.m., and if I had any sense, I would have gone straight to bed. Instead I stayed up a couple more hours editing and uploading photos, under the assumption that the world couldn't possibly wait any longer to see them. You're welcome, world.
Because of that, I got up way too late the next day. Deciding my tie wasn't a good match with my shirt color, I went in search of a thrift store where I could buy a new one. I've never spent more than a buck or two on a tie, including the Christian Dior silk number I was trying to replace. It had served me well for the past 20 years, but in addition to the color issue, it was looking a little frayed.
I failed completely. If thrift shops exist in downtown Cleveland, they escaped my notice. Suddenly realizing it was way past time to get ready for the induction ceremony, I headed back to the hotel, stopping by the auditorium on the way to ask a guard which entrance I was supposed to use.
He looked at me dubiously. "Let me see your credentials," he said.
"Oh, I haven't got them with me, they're at the hotel," I told him. He looked even more dubious, and told me to get out of the way so some fancy lady in an evening gown could get past me and onto the red carpet.
That's when I remembered that before going shopping I'd been down on the waterfront doing t'ai chi, and was no doubt looking a little disheveled in my tattered hoodie and sweat pants. Probably not the kind of image the Rock and Roll Hall of Fame was looking for.
It turned out there were two red carpets. The one I was standing in front of was for "talent and celebrities," a category I was pretty sure didn't include me. The other, smaller one was at the back of the building. Once I had changed into a coat and tie and convinced myself that my shirt wasn't such a bad match after all, that's where I headed.
I was almost there when I heard someone calling my name. It was Big Frank, Tre's dad. He, his wife, and Sara's parents were going in through yet another entrance, but I hung around talking to them for as long as I could, and got inside just in time to be late for dinner.
The Hall of Fame had laid on an opulent spread for us, but girls were walking around with signs that read "SHOW TIME," which meant we were supposed to stop eating (I hadn't even started yet) and take our seats upstairs.
I gobbled up as much food as I could, figuring I had a long night ahead of me, then went in search of our table. It turned out to be all the way up at the front, toward the right hand side of the stage. An all but perfect view, I thought, until I found out that half the inductions would take place on the other side.
It meant I had to crane my neck to see Miley Cyrus inducting Joan Jett and the Blackhearts, but our side got Patti Smith and Laurie Anderson (the latter accepting on behalf of her late husband, Lou Reed), the Paul Butterfield Blues Band, and, of course Green Day.
I'd seen the Butterfield Blues Band once, in the spring of 1968, playing a free show with the Jefferson Airplane and the Grateful Dead at the bandshell in Central Park. They were surprisingly good—I'm not normally a fan of that style of music—but hadn't given them much thought since then except when I discovered that keyboardist Mark Naftalin was the father of Davy Normal, the 16-year-old artist who drew the cover for the first Lookouts LP back in 1986.
I wondered if Davy was in the audience, a question Naftalin answered seconds later in his acceptance speech by thanking "my son, the artist David Normal, who has flown out from California to be here tonight."
Davy, er, David has come a long way since his days of doing free album covers for unknown punk rock bands, and has a major exhibit coming up at the British Library in London. Later that night, he and Tre Cool got together and reminisced about their childhood days at Camp Winnarainbow.
Now that we'd entered the blues-rock portion of the evening, featuring sets by the remnants of the Butterfield Band (mainstays Mike Bloomfield and Butterfield himself died decades ago) and Stevie Ray Vaughn's Double Trouble, it felt like an opportune time for a bathroom break. Encountering Aaron Cometbus on my way back, I griped, "Man, I didn't like this kind of music very much in the 60s and 70s, and it hasn't improved with age."
Petty complaints notwithstanding, I was surprised at how much I enjoyed the evening as a whole. I'd been afraid it would tend to drag, especially when some of the inductees got a little, shall we say, long-winded with their acceptance speeches. Even when the teleprompter started counting down the seconds and flashing "Please wrap it up," nobody paid much attention to it.
70s soul singer Bill Withers talked for quite a while, too, but nobody was telling him to wrap it up. Droll and garrulous, he reminded me of the old-timers who used to work with my dad at the Detroit Main Post Office. They always had a story to tell you, usually one with no discernible end or beginning, where every sentence became either a punch line or the setup for one.
"Man, this has got to the largest AA meeting in the Western Hemisphere," he blurted. Considering how many celebrities and performers were nursing glasses of water instead of the free-flowing wine, he probably had a point.
Being inducted by Stevie Wonder was "like a lion opening the door for a kitty cat," he said, and wrapped up his remarks with, "Stevie Wonder knows my name and the brother just put me in the Hall of Fame.
As good a talker as Withers turned out to be, he wasn't interested in singing, and let Stevie Wonder and John Legend deliver stunning renditions of his two biggest hits. Stevie proved to be no slouch in the humor department, either; a few bars into "Ain't No Sunshine," he stopped the song and told the band to start over. "I'm in the wrong key," he said. "I wasn't looking at the music."
Green Day got the loudest reception of the night—including quite a few Beatlemania-style shrieks from the balconies—and played the loudest, too. They were the youngest of all the inductees, and the only ones to have done some of their most important work in this century.
Though Green Day have won a ton of awards over the years, the Hall of Fame is a different order of magnitude. All three members later confessed to having been somewhere between nervous and terrified when they walked onto the stage, but sitting in the audience, you'd never have guessed it.
"They don't let drummers read teleprompters," claimed Tre, then proceeded to speak, as did Mike and Billie, straight from memory and the heart. He talked about the days when Green Day were touring in a yellow Econoline van, playing back yards and basements, and silkscreening t-shirts on Billie Joe's guitar case.
"I didn't think back then we'd be here now in the Rock and Roll Hall of Fame," he said, paused for effect before adding, "I thought it would be at least another year or two."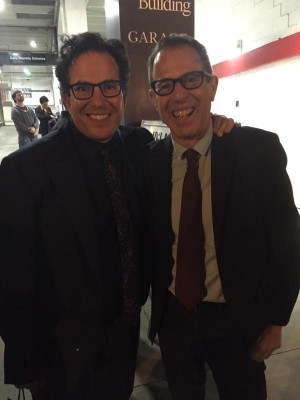 It was vintage Tre, and reminded me of the time I'd congratulated him on becoming one of the best drummers in the world. He'd looked at me as if I were an idiot, and retorted, "One of?"
Not everyone can get away with that kind of braggadocio, but you'd expect nothing less of Tre. It's not just that he really is that great of a drummer; he can also, when it's called for, get serious, and even downright humble. No one could accuse him of irreverence as he cited and thanked the drummers who had inspired him, a list that combined world-famous names like Ringo Starr and Charlie Watts with some (John Wright of No Means No, Al Schvitz of MDC) only a handful of people in the hall would recognize.
Aaron Cometbus got a nod, too, as did "my good buddy and drummer extraordinaire" John Kiffmeyer. It's embarrassing to admit, but by this point I was kind of hoping Tre, or at least one member of the band, would give me a shout-out too. As it turned out, all three did.
Not just shout-outs, either; each went into some detail about what they were thanking me for. Tre told how I'd given him his punk rock name ("I fought him as hard as I could on that, but I'm fucking stuck with it now"). Mike praised me for creating Lookout Records "for all the right reasons" and the bands I'd given a home to.
Billie continued in that vein, name-checking the likes of Sewer Trout and Nasal Sex and paying tribute to the band's origins ("We come from this place called Gilman Street"). By now I was in tears, and barely noticed or cared that a cameraman had his lens trained on me in search of a reaction shot.
Immediately afterward, the band picked up their instruments and played three songs; the backdrop, a montage of old Gilman and East Bay flyers, let us know Green Day's hearts and minds had never strayed too terribly far from home. The show could have ended on a high note then and there, but there was still plenty more to come.
I'd briefly met Ringo Starr some 13 years ago, and once saw John Lennon and Yoko Ono performing, but tonight would be my first time seeing any of the Beatles on stage together.
I was a teenager when the Beatles arrived in America, and for most of my adolescence and young adulthood they'd loomed over all as the Biggest Band Ever. The night I first saw Sweet Children playing for five bewildered high schoolers in that candlelit cabin atop Sherwood Road, the first thought that popped into my mind was, "These guys could be the new Beatles."
My next thought was to question my own sanity, but I didn't let that stop me from offering them a record deal on the spot. I didn't yet understand that because of the fragmentation of the music industry and the disappearance of monolithic rock and roll culture, there would never be a "new Beatles," but Green Day came as close to it as anybody could.
And now here they were, Billie, Mike, and Tre (and Jason White) playing Beatles songs with the Beatles. First with Tre and Ringo installed on side-by-side drum sets, then with Paul stepping in for a grand finale that featured everyone—Miley Cyrus, Stevie Wonder, Peter Wolf from the J. Geils Band, Dave Grohl from Nirvana, John Legend, even Paul Shaffer from the Letterman show—singing "With A Little Help From My Friends" and "I Wanna Be Your Man."
Normally I steer clear of my fellow graybeards and baby boomers for fear they'll start banging on about how everything was better "back in our day," or how "these kids don't know anything about real music." But suddenly I was at the front of the stage, in the center of a scrum of 60 and 70-somethings, singing along as if it were 1964 all over again.
Never in a million years could 16-year-old me have envisioned this sight. The same must have been true for 16-year-old Billie and Mike when that weird guy on from the mountain asked them to make a record, or 12-year-old Tre, when that same weirdo asked if he'd ever thought about trying to play the drums. Tim Armstrong said it way back in the 90s, and it keeps becoming ever more true: "No premonition could have seen this."
The afterparty started out a little chaotically. We arrived to find almost nobody being let in. American Idiot director Michael Mayer, Warner Brothers execs, even some Green Day family members, stood milling around at the entrance to an empty room because our names supposedly weren't on the list.
Arguments and pleas for reason went nowhere until Silvio from The Sopranos—er, I mean Steven Van Zandt—showed up, growled, "What's going on here?" and led the whole pack of us past a slackjawed security guard.
I never found half the people I wanted to talk to; others were hemmed in by such a press of well-wishers that I gave up trying to fight my way through the crowd. I did spend some time talking with Tre and Sara, as well as with Mike and his wife Brittney, who after a year-long battle with cancer is recovering fabulously.
None of the Big Three—Jason White, Jeff Matika, and Jason Freese—seemed to be anywhere in sight, but luckily I'd run into all of them at various other points during the weekend. Jason White, who also underwent cancer treatment recently, might still be feeling a little shaky, but it didn't stop him from putting in a full shift with the band on both Thursday and Saturday nights. It was great to see him on the mend.
I was hoping to run into Ringo Starr to thank him for some life-changing advice he offered me back in 2001, but it never happened. Nor did I get a chance to talk to Joan Jett, and therein lies a story that needs to be told, no matter how long this piece has already gotten.
Back around 1981, during one of Joan's first solo tours, she played a show in Ann Arbor. Everybody I knew was there to see our longtime friends the Cult Heroes, one of the bigger local bands at the time, as well as a new band featuring Dennis Thompson from the MC5.
It never occurred to us that the Cult Heroes wouldn't be headlining, so we were mightily pissed off when they were forced to cut their set short to allow more time for the touring band. Insult was added to injury when we were kicked out of the backstage dressing rooms, which we were used to treating as our private hangout space.
So we went on the floor and mercilessly heckled Joan Jett through her entire set. It was ugly, and probably a little misogynistic (it was the early 80s; apart from that, I have no excuse).
Fast forward to the summer of 2010, when I met Joan Jett backstage at a Green Day show. I was talking to her and Billie when Tre butted in. "Hey Larry," he said, "didn't you see Joan and her band back in the old days?"
No, I insisted, I was pretty sure I'd never seen her play, either solo or with the Runaways. I honestly believed I was telling the truth. Somehow I had blocked the whole incident out of my memory, but apparently I'd once told Tre and Kain about it at Lookouts practice, and he hadn't forgotten.
Tre asked a second and third time, and I continued to deny it. Joan walked away, and only then did I remember what he was talking about. I've been waiting ever since then for another chance to apologize to her, and thought it might come this weekend. Unfortunately it didn't, so Joan, if you're reading this, I'm truly sorry for being such an obnoxious jerk in 1981.
I did run into Blackhearts guitarist Ricky Byrd, who was re-telling the story that had gotten such a big cheer during his acceptance speech. He'd told how his 13-year-old daughter was unimpressed with her dad's rock and roll accomplishments unless they meant she could meet Iggy Azalea (Al Sobrante's 14-year-old son, meanwhile, was on a quest to get a selfie with Miley Cyrus).
"In my world," an indignant Ricky said, "there's only one Iggy you want to meet."
There was no need to specify which Iggy he was talking about, and it was even less necessary when repeating the line to us at the party, but for some reason, he felt compelled to add, "Iggy Pop."
Kids these days, I thought. That whole "Pop" thing didn't come along until later. Back in Ann Arbor he was Iggy Stooge.
In a hurry to catch my train to the airport the next morning, I barged out of the elevator without looking and nearly knocked over Peter Wolf, still sporting that trademark fedora of his. He stayed on his feet, spilling not a drop of the large coffee he was carrying, but even as I apologized, I caught myself thinking, "Dude, I saw you guys open for the Rolling Stones in 1981 and you played way too long."
Apart from the plane ride back to New York, that pretty much wrapped up the weekend. I was still smiling when we landed at LaGuardia, and even the crowded bus and train ride home couldn't wipe the grin off my face. More than two weeks later, I'm still quietly glowing: even the notoriously hard-to-please Aaron Cometbus characterized our time in Cleveland as a "surprisingly sweet" affair.
Aaron and I have known Green Day for considerably more than half their lives, and we've watched them climb from Gilman Street to the upper echelons of the rock and roll pantheon without losing—in fact maybe gaining more of—the grace, humility, and love that have guided them through the minefields of an industry and profession seldom noted for any of those qualities.
At the beginning of the 1960s, just when music was starting to become one of the most important things in my life, a group called The Showmen had a minor hit called "It Will Stand." Rock and roll, the song claimed, would stand forever and ever ("ain't gonna fade, never no never").
It never came close to cracking the Top 10, but for my gang it was like the greaser national anthem. We'd punch the air and sing along with all the force and fury a bunch of 13 and 14-year-olds could muster, certain that if there was one thing we could count on in this crazy, mixed-up world, it was the staying power of rock and roll.
As profound as those lyrics felt to us, they must sound naive and a little silly to today's 13 and 14-year-olds, who tend to think of rock and roll as old people's music, the kind of stuff their parents listened to—or that you go to museums like the Hall of Fame to learn about.
But for 50 years or so, rock and roll in all its permutations—doo-wop, rockabilly, acid rock, glam, punk, and many more—was among the most vital forces on the planet. Though many of its creators are gone, and many more will shuffle off the stage in the not too distant future, the music itself will stand, long after any of us are around to analyze, categorize, or wax nostalgic and romantic about it.
In 1988 I was fortunate enough to hear three kids playing songs that I instantly knew the rest of the world needed to hear. I feel deeply honored to have played some small part in helping that happen. All I have left to add is thank you: to Green Day, to Gilman Street and the East Bay, to all of us who found each other and banded together to create a scene, a culture, and a music that transformed our lives and will continue to reverberate through the ages.